Exclusive Interview With Voluptuous Monique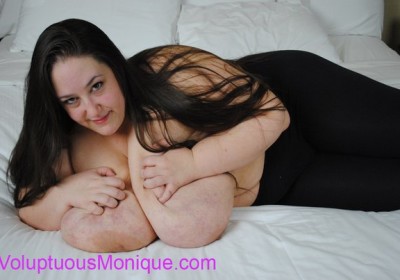 Best well-known for her plumped assets, Voluptuous Monique has definitely made a name for herself over so many years now as a softcore porn star and is still going strong today with exclusive new contents on her official website to please many longtime fans. Apart from her recent work, I am sure that many of you are mostly familiar with her earlier works especially with XLGirls from Score a while back that definitely gained her wide popularity from manys fans who looking to something new at that time. Not only that, she is also best known for her collaborations with PlumperPass who kepts a balance between softcore and hardcore contents back in the day.
With gorgeous huge tits and a nice round ass, Voluptuous Monique knows how to use her plumped assets like before to get everyones full attention from bbw fans to horny pervs alike in a mere instant when it comes to making a big return to modeling. In this exclusive interview, the lovely Voluptuous Monique finally reveals all and tells us what her plans are in the porn industry as many longtime bbw fans are eagerly wanting to knows the answers while hoping to see more softcore or something new from her this year. And there is no doubt in mind that everyones is thinking what they're thinking at this moment especially now that this legendary bbw porn star has return.
To my knowledge, not only that she is a renewed plumper within the porn industry but is also well-revered by many longtime fans who continues to show their love and support for her to this day after years of absence from modeling. Like as before you can follow this legendary bbw porn star on twitter, @VoluptuousMoniq to learn more about her and be sures to checks out her official  website, VoluptuousMonique.com for exclusive contents if you are a longtime fan of hers or just a fan of beautiful plumpers.
Those beautiful huge tits is what makes Voluptuous Monique a great bbw porn star over the year and well-revered by many longtime fans before her.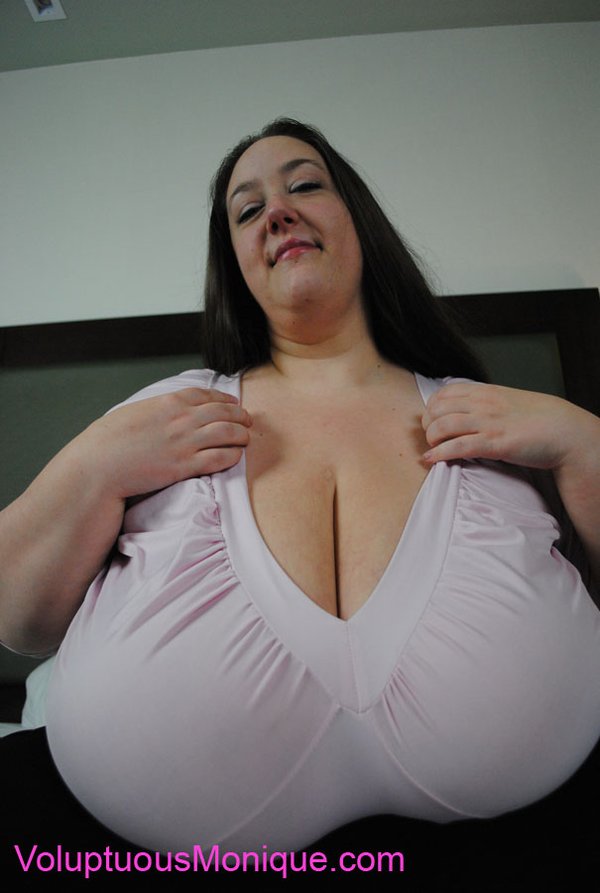 Sexcraftboobs So where are you from?
Voluptuous Monique I am from Chicago, born and raised in the city! but for the last few years I have been living in Arizona.
Sexcraftboobs What have you been up to lately?
Voluptuous Monique Besides taking care of my family I have just been concentrating on getting back in to modeling full-time again.
Sexcraftboobs Now are you really coming back to model and make exclusive new contents?
Voluptuous Monique Yes of course! I have my new website, VoluptuousMonique.com that is all newer content, I will be doing another shoot next week to ensure that from now on each week the site will be updated with brand new pictures and video clips!
Sexcraftboobs Have you done any webcam or skype shows before or as of late?
Voluptuous Monique I have done a few recently… I only do private one on one cam shows with loyal fans for more info I can be reached at VoluptuousMonique1@gmail.com.
Sexcraftboobs Do you have any upcoming shoots or projects you are currently working on?
Voluptuous Monique As I mentioned above I am very excited to shoot for my site but also I will be opening up a clips4sale store soon… I am most likely going to BBWCON this year which should be a lot of fun, I am looking forward to meeting the fans and breaking out of my comfort zone.
Sexcraftboobs Now outside modeling, how is a normal day in your life has been?
Voluptuous Monique I am pretty boring to be honest… I'd love to say that I sit around in lingerie playing with myself all day but the truth is I am just like every other woman out there that has a family… I tend to be a homebody, I haven't really made many friends here in AZ so I spend a lot of time with my kids and watching TV. Lol!
Sexcraftboobs Have you done any traveling as of late?
Voluptuous Monique No, although I must say that I miss it! I will be going back and forth to Vegas a few times within the next few months and I do plan on taking a trip back home (Chicago) cause I really miss being surrounded around family and friends that truly know who I am.
Sexcraftboobs What is your bra size? When did your breasts start to grow? How was it back then?
Voluptuous Monique Right now it's 38T but I am still growing! I will continue growing till menopause since I have VBH (Virginal Breast Hypertrophy) which basically means that my breast tissue is sensitive to hormones therefore it causes them to grow… They started growing when I was around 15, I literally went from flat as a board to a DD over night which is common with VBH. I was definitely teased a lot and the girls hated me but I didn't care cause for some crazy reason I really always wanted huge breasts! I just see them as being sexy and hyper feminine so I embraced them!
Sexcraftboobs Now you have a nice huge round ass, can you measure how big or huge your ass is?
Voluptuous Monique Thank ya 🙂 my ass is 55 inches around and I have a 40 inch waist.
Sexcraftboobs Have you met many fans, both in public? How do they react? Any conversation so far?
Voluptuous Monique I have been recognized a bunch of times by fans in public before… to name a couple…one time while in NY I was on a date we went to see the exorcism of Emily Rose and the movie let out around 3 am and while walking through Central park this guy came up to me overly excited saying "OMG you're Monique, I'm a huge fan" I was very flattered I thought it was awesome but unfortunately my date didn't take it as well lol he just got a bit over protective and walked me away. Another funny time was when I went to Walgreens with my little sister and my daughter… I was in my pajamas and I was buying a huge 24 pack of toilet paper so as I was walking out looking sexy with my TP lol a guy yells out "hey I know who you are, you're Monique" so my sister couldn't stop laughing and said yes, yes she is lol so after some small talk we went our separate ways. 🙂
With gorgeous huge tits, Voluptuous Monique definitely knows how to use them to get everyone attention from bbw fans to horny pervs alike in a mere instant.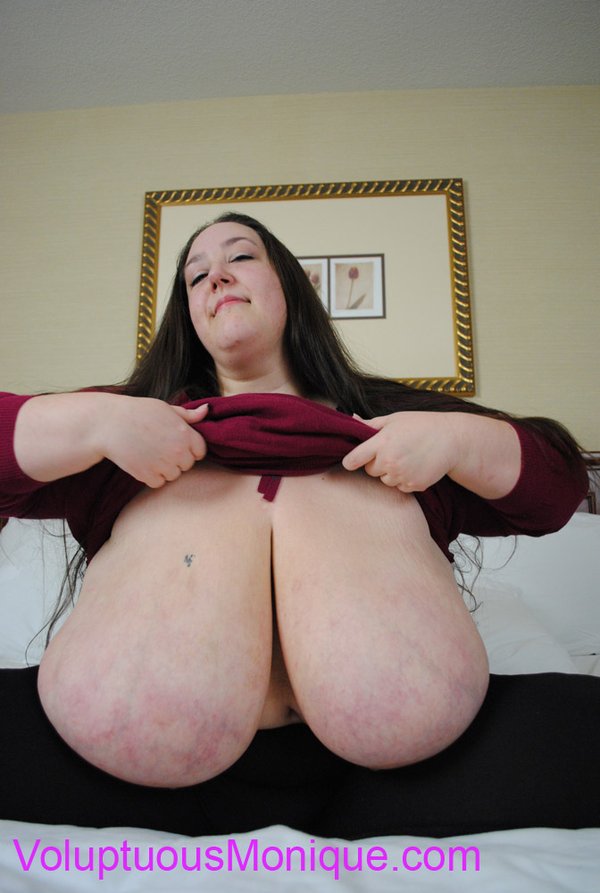 Sexcraftboobs Now you have done a lot of softcore videos during your first run in the porn industry. Are you interested in doing hardcore videos or are you planning to do some this year? Or that still not your thing?
Voluptuous Monique I have no plans at all to do hardcore… I don't judge anybody else for doing hardcore I just never wanted to limit myself… in this business once you cross that line there is no coming back, you will only be known as a "porn star" I love the niche that I am in right now, I love to tease and make the fans want more, that is a turn on to me… plus I have other non-modeling businesses that I am working on that is in the medical field and quite frankly it is hard enough to be taken serious with these huge boobs attached to me yet alone if I had the "hardcore" title attached to my name.
Sexcraftboobs Do you like titty-fucking?
Voluptuous Monique Most definitely! Although most men get lost very easily! Lol! 😛
Sexcraftboobs How do you masturbate?
Voluptuous Monique Well I have a very high sex drive and I prefer to be with my partner but when needed I tend to masturbate the same way every time… my right middle finger rubbing my clit side to side while my left hand rubs and pinches my nipples…. works every time! Lol!
Sexcraftboobs What are your sexual fantasies about?
Voluptuous Monique Hmmm, I don't really have elaborate fantasies I am more into visualizing whats going on and completely letting go in that moment.
Sexcraftboobs If you had three wishes, what would you wish for?
Voluptuous Monique This might sound like BS but I wouldn't wish for anything… for one I wouldn't ask for money or riches since that is not what makes me happy I am not materialistic by any means… also I believe we go through a lot of the hard times for a reason, every horrible thing that I lived through has prepared me for life ahead so I can't wish that horrible things wont happen. the only thing I could even come up with is a wish to be happy, but I believe happiness is a choice so I am happy! just my opinion anyway. 🙂
Sexcraftboobs Have you ever got any proposals from other adult studios?
Voluptuous Monique Oh yes many many times… most of them think that my choice to not do hardcore is a money issue so they keep raising their offer and getting offended that I refuse but as I said above it is not about money to me and its not personal. I don't think I am better than any other model in the business I just think we are all different with different paths and goals.
Sexcraftboobs How do you promote yourself? Do you use social media like twitter, instagram and tumblr to promote yourself?
Voluptuous Monique I am lucky enough to still have a very loyal following since the beginning but I do promote on social media such as Facebook (Wonder Monique) and (Voluptuous Monique) and I just created a Twitter this week lol VoluptuousMoniq I also like to check out some forums every now and then… I started a blog site too I posted about why my breasts are so big and growing and what it was like growing up, tomorrow I will be posting a new one about the funniest reactions from people on the street regarding my breasts. you can see that at HugeBoobsandaBlog.com.
Sexcraftboobs Do you have any random thoughts?
Voluptuous Monique I have way too many random thoughts! Lol, which is probably why I have taken on so many things at once…
Sexcraftboobs Is there anything you would like to add for fans reading this interview? Any final words?
Voluptuous Monique Basically just Thank you!!! I have some of the greatest and most loyal fans ever! a lot of them have been following me for almost 13 years since Topheavy and has supported me through "retirement" and a "comeback" I hope to meet any fans that can make it to BBWcon in july and also I love to hear any ideas or requests so feel free to e-mail me anytime at VoluptuousMonique1@gmail.com I do respond to emails… Lots of love and booby hugs! Monique.
Like as before you can follow this legendary bbw porn star on twitter, @VoluptuousMoniq to learn more about her and be sure to check out her official website, VoluptuousMonique.com for exclusive contents if you are definitely a longtime fan of hers.