Exclusive Interview With Jessie Minx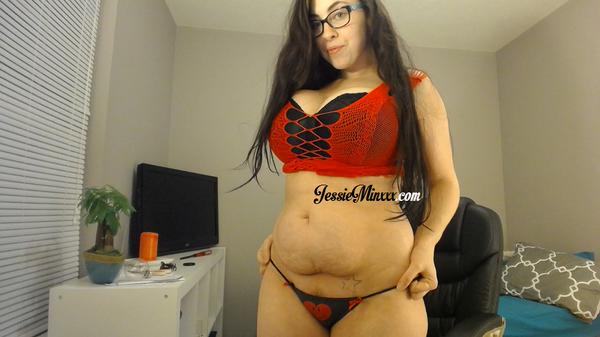 As a sensational camgirl with voluptuous curved assets, Jessie Minx has gain much success through her webcam shows especially with her collaboration with Kristi Maxx which has gain her wide popularity from fans. On top of that, she has also made a name for herself by establishing her own official website and producing her exclusive contents from photosets to videos which are all definitely worth buying any fanboy.
With nice big boobs and a curved round ass, she uses these voluptuous assets of hers to get everyone attention from fans to pervs alike when it comes to putting on a great cams which is worth checking out. In this exclusive interview, the lovely Jessie Minx finally reveals all and tells us what her plans are as fans are eagerly wanting to know the answers while hoping to see more from her this year.
To my knowledge, it seems that there is no signs of her slowing down anytime soon as she continues to do what she do best which is giving fans what they want that ultimately gains her greater popularity. You can follow this sensational camgirl on twitter, @JessieMinx to learn more about her if you are a big fan of hers or just a fan of babes with voluptuous assets, in the meantime here is my exclusive interview to leave you satisfy at the end of the day.
And be sure to check out Jessie Minx on webcam at DiamondWebcams if you want to get your money worth for a private one on one session with her.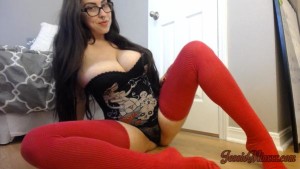 Sexcraftboobs How is your webcam and skype shows doing?
Jessie Minx Webcaming is touch and go but I always love doing it at the end of the day. I get to be personal with my fans and meet new ones and that's the best part. 🙂
Sexcraftboobs When and why did you first decide to model?
Jessie Minx I knew I wanted to be apart of the industry since I was minor and the day I turned 18 I did my first cam show! However I didn't decide to take it seriously till about 2 years ago.
Sexcraftboobs Have you watched any porn before your modeling career? If you do it? How often?
Jessie Minx Everyone watches porn at some point. I think I watched it more then others back in the day growing up lol… I still watch porn about as often as my husband would so I'll leave that to your imagination! 😉
Sexcraftboobs Have you watched your own scenes?
Jessie Minx Well yea I have to edit them, LOL! 🙂
Sexcraftboobs What do you do when you not modeling? How is a normal day in your life?
Jessie Minx A normal week day is me getting up at 7am to get my kid ready for school, drink some coffee, check the status of all my sites, emails and social networks. Then I will work on any videos that are a must by noon or 1pm I am on cam till about 3pm and ready to greet my kid from school. I get dressed go do any task required of me as a mom and wife such as grocery shopping, after school activities and more. I cook dinner hang out with my family with some TV then I get kiddo ready for bed. Shower, put on make up, get sexy and by 11pm I am back on cam till about 1am then bed. That is a fairly typical day for me if my system is not messed up M-F.
Sexcraftboobs What is your bra size? When did your breasts start to grow? How was it back then?
Jessie Minx I wear a 38DD and I know its incorrect I could easily wear an F cup. I developed at 13 and was already a D cup over summer.
Sexcraftboobs Have you met many fans, both in public and on social media? How do they react? Any conversation so far?
Jessie Minx Yes, I have met them in Walmart, at conventions I've attended and even been my neighbors. There reactions vary. Most say nothing but let me know they say me at such and such place other want a picture or say hi I am always happy to say hi back its only rude if I am with kids.
Be sure to check out her official website, JessieMinxxx.com for all of her exclusive videos and photos that are definitely worth signing up for a membership for any fanboy.
Sexcraftboobs Now you done some hardcore scenes? Have you ever done any anal scene before? Do you like doing an anal scene?
Jessie Minx I am not sure what defies hardcore – I do my own sex videos but I hardly called them hardcore and I only have a handful of these gems. I have a few anal scenes that are solo with toys or my fingers, at no point any time soon will I be doing clips of a man fucking me in the ass. Something are to remain in my private life.
Sexcraftboobs Apart from anal, is there anything else do you prefer or like to prefer? Spit, swallow or facial?
Jessie Minx Most of my b/g videos are oral because it is fun, easy to shoot and well my man loves it. I do all of the listed! 🙂
Sexcraftboobs What is your short-term and long-term goals inside modeling and outside?
Jessie Minx This question is way to long to go into detail, plus it would give away some secret plans! 🙂
Sexcraftboobs Is there any busty or bbw porn star admire?
Jessie Minx I admire a lot of girls online more then I cam name, hehe! 🙂
Sexcraftboobs Have you ever got any proposals from any adult sites?
Jessie Minx I have received multiple offers from big name company to small ones. Sometimes I take them up on there offer, others not so much. I tend to avoid big name company's so far.
Sexcraftboobs Is there anything you would like to add for fans reading this interview?
Jessie Minx Pay for your Porn. Simple as that, if you steal my work your are keeping me from having a job. This IS a job if you don't pay for my work I will eventually no longer do it. This applies to ALL girls who are in the industry. Respect what we do.
Like as before you can follow this sensational camgirl on twitter, @JessieMinx to learn more about her if you are definitely a big fan of hers.