Exclusive Interview With Delzangel
With Score dominating the US as they continues to gain more busty newcomers almost everyday, many boob fans has started to gain some attention toward Europe as one model with huge tits emerges from the crowd of society to make her DDF Busty debut appearance. Delzangel is the latest edition of busty European models as she aims to make a name for herself in the porn industry by exposing her huge round juggs to the world which is definitely starting to gain popularity by a boob fan following.
To my knowledge, boob fans in the US such as myself have already a growing fondness of busty European porn stars like Joanna Bliss, Natalie Fiore, Roxanne Miller and others who all contributed to many popular adult site, including Score which we all hopes to see her on there soon. In this exclusive interview, the lovely Delzangel reveals all and tells us what her plans are in the porn industry as many boob fans especially those in the US are eagerly hoping to see more softcore action and hopefully some hardcore scenes from her soon in the future.
You can follow this gorgeous busty European porn star on twitter, @debdelamar to learn more about her if you are a big fan of hers or just a fan of big boobs, in the meantime here is my exclusive interview with her to leave you satisfy at the end of the day.
Be sure to check out her scenes at DDF Busty.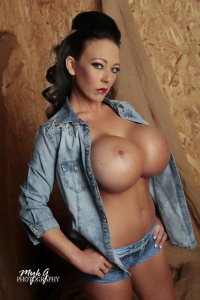 Sexcraftboobs So where are you from?
Delzangel I grew up in Liverpool, England although I moved away in my early twenties. I currently live in a small town around 50 miles north of Cardiff, South Wales.
Sexcraftboobs What have you been up to lately?
Delzangel Work, work and more work !! I still have my day job so between working full time and Modelling I don't have much time to do anything else.
Sexcraftboobs When and why did you first decide to model?
Delzangel Not that long ago really, in fact it will be 12 months ago at the end of this month when I did my first ever topless shoot. I guess I got fed up of saying  "No" to people when they would ask me if I was a topless Model so I thought, why not give it a go, it was only meant as a hobby but now it kind of over took my life, in a good way.
Sexcraftboobs Have you done webcam and skype shows before?
Delzangel No. I do get asked that question a lot but it's not for me.
Sexcraftboobs Have you watched any porn before your modeling career? If you do it? How often?
Delzangel Yes, occasionally before I started to Model and now, well every time I look on my twitter. 😉
Sexcraftboobs Have you watched your own scenes?
Delzangel Ha ha, no I never watch the videos, of course I look at the stills though.
Sexcraftboobs Do you have a boyfriend or are you married?
Delzangel I am happily married, my husband deserves a medal ha ha , I am not the easiest person to live with.
Sexcraftboobs What do you do when you are not modeling? How is a normal day in your life?
Delzangel At the moment, I am working nights so when I arrive home at 07.30 I just want to sleep but that will change again soon and I will be back working 9 till 5. I also have two teenage daughters.
Sexcraftboobs What is your bra size?
Delzangel Because my back is so small but my front is big my size is not made. The closest off the peg size I buy is 28/30 KK/L depending on the brand.
Sexcraftboobs Now it clear that you have breast implants?
Delzangel Oh yes 🙂 I am on my third pair, what can I say, I'm a greedy girl. 😉
Sexcraftboobs Have you met many fans, both in public and on social media? How do they react? Any conversation so far?
Delzangel In the flesh, no, over social media, yes, I have spoke with a few people and everyone who I have spoken with are really nice and above all else, respectful.
 Breast implants have never look any better on a European porn star.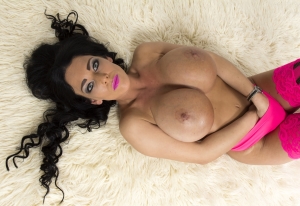 Sexcraftboobs Now you have done only softcore scenes, is there any chance that you would like to do a hardcore scene?
Delzangel Another question I get asked a lot. No, for me my levels of  work will not change.
Sexcraftboobs What is your short-term and long-term goals inside modeling and outside?
Delzangel Who knows? At the end of the day, I am no spring chicken and I was what you would call a late starter, I am 34 after all.
Sexcraftboobs Have you ever got any proposals from other adult sites?
Delzangel Yes, some before I worked with DDF and some afterwards and so far I have politely declined.
Sexcraftboobs Is there anything you like to add for fans reading this interview?
Delzangel Of course, a big thank you without fans and followers there would be no Delzangel xx.
 We can expect and hope to see more new scenes from her soon.